Casting the Bard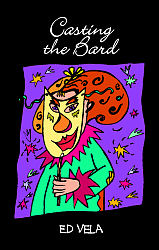 Collections

By: Ed Vela
Cast: 3 M, 3 F, 5 flexible (With doubling: 2 M, 1 F, 2 flexible)
Performance Time: Approximately 45 minutes, 38 pgs.



COLLECTION. This collection of three short plays provides a humorous behind-the-scenes look at theatre. In "Casting the Bard," three exhausted drama teachers find themselves stuck in a precarious position—they have to cast for the role of Puck in "A Midsummer Night's Dream" but they only have three students to choose from. The students vying for the role all have major negatives, but trying to decide which student is the best of the worst is the hardest job of all. In "Just a Few Brief Notes…" the director of a school production of "Tom Sawyer" struggles to direct a surfer cast as Huck; an uptight shoe-wearing Tom Sawyer; and a Becky Thatcher who thinks she's tongue-zilla. And in "The Art of Compromise," a playwright attempts to compromise with an avant-garde director who wants to transform his modern courtroom drama into the story of a Viking mother brainwashed by a Russian hypnotist.

Freeviews: To read play excerpts click here.
Please remember it is necessary to purchase one script for each cast member and one royalty for each performance.

Scripts: $7.95 each
Royalty: $60.00/performance
Prompt Book: $16.00
Poster Package: $50.00 (50/pkg)
Distribution Rights: $60.00
Artwork Rights: $50.00
Play Pack: $217.00 (14 scripts for cast/crew, 1 royalty, 50 posters, 1 prompt book)

Ed Vela is a national award-winning playwright whose plays have been produced throughout the U.S. Mr. Vela is also an accomplished actor who has more than 30 years of experience on the stage. He resides in southern California.