Dancing with the Clauses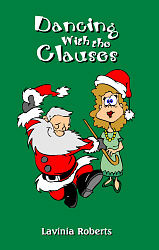 Holiday Plays

By: Lavinia Roberts
Cast: 4 M, 7 F, 23 flexible, opt. extras (With doubling: 3 M, 6 F, 16 flexible. Minimum cast 14.)
Performance Time: Approximately 40-60 minutes. Note: The length of the show is flexible depending on the number and length of dance numbers, 24 pgs.


HOLIDAY COMEDY WITH MUSIC/DANCE. Whirl and twirl your way into the holiday season with "Dancing with the Clauses," the reality-TV show where dancers compete for the honor of becoming the top dancing team at the North Pole. Two jingle-bell-loving elves serve as the judges. Contestants include the square-dancing Santa and Mrs. Claus, ballet-dancing Sugar Plum Fairies, discoing elves, clumsy ballet-dancing snowmen, elves performing a holiday cheer routine, and a high-energy reindeer dance number complete with a kick line. Choose your own holiday carols. A fun, festive show for all ages.

Freeviews: To read play excerpts click here.
Please remember it is necessary to purchase one script for each cast member and one royalty for each performance.

Scripts: $7.95 each
Royalty: $60.00/performance
Prompt Book: $16.00
Poster Package: $50.00 (50/pkg)
Distribution Rights: $60.00
Artwork Rights: $50.00
Play Pack: $400.00 (37 scripts for cast/crew, 1 royalty, 50 posters, 1 prompt book)

Lavinia Roberts is an award-winning playwright and educator. She has a MA in Theatre Education from New York University and an MFA in Playwriting from Southern Illinois University. Roberts has been a theatre teacher for more than a decade. She is an Assistant Professor and Murphy Fellow in Theatre Arts at Hendrix College in Conway, Arkansas.