Christmas Carol, A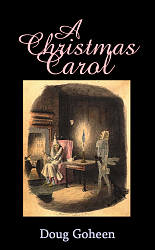 Holiday Plays

By: Doug Goheen
Cast: 13 M, 15 F, 7 flexible, 3 boys, opt. extras (With doubling 10 M, 9 F, 1 boy)
Performance Time: Approximately 60 minutes, 47 pgs.


CHRISTMAS DRAMA WITH SONG. This adaptation of the classic tale by Charles Dickens (1843) includes all the most memorable scenes while offering an easy-to-produce streamlined version suitable for novice or experienced actors. On Christmas Eve, lonely miser Ebenezer Scrooge is visited by the ghost of his dead business partner, Jacob Marley, who warns Scrooge that he will be visited that night by three more apparitions: the Ghost of Christmas Past, the Ghost of Christmas Present, and the Ghost of Christmas Yet to Come. One by one, the ghosts escort Scrooge into the night to revisit his past and present and to offer him a grim look at what is to come. Scrooge awakens Christmas morning ready to cast aside his greedy, self-serving ways and to embrace acts of kindness and charity toward others who are less fortunate. A rendition of "God Rest Ye, Merry Gentlemen" is included and other carols may be incorporated at the director's discretion.

Freeviews: To read play excerpts click here.

About the Story: To read more about the story click here.
Please remember it is necessary to purchase one script for each cast member and one royalty for each performance.

Scripts: $8.95 each
Royalty: $75.00/performance
Prompt Book: $16.00
Poster Package: $50.00 (50/pkg)
Distribution Rights: $75.00
Artwork Rights: $50.00
Play Pack: $488.00 (41 scripts for cast/crew, 1 royalty, 50 posters, 1 prompt book)


Doug Goheen has published several plays for children and adults and has taught English and theatre for more than 35 years. Mr. Goheen and his wife, Diane, live in Topeka, KS. They have two sons, Jacob and Nathan.