My Darlin' Clementine: A Musical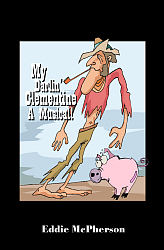 Musicals

By: Eddie McPherson
Cast: 9 M, 10 F, opt. extras (With doubling: 6 M, 7 F)
Performance Time: Approximately 90-120 minutes, 82 pgs.


MUSICAL. While searching for his runaway bride, Chester Ames stumbles upon the tiny desert town of Cactus Creek. In a town where marriage has been outlawed and even the mention of the "M-word" is punishable with five days in the county jail, Chester has his hands full avoiding the town's love-starved damsels long enough to find his one true love, Clementine. To make matters worse, the town's local outlaw, Jarvis Plume, has set his sights on taking over the town and forcing all the single ladies to take turns dating him. Chock full of puns, one-liners, hilarious characters, and popular American folksongs, this musical will have your audience laughing, singing, and tapping their toes!

Freeviews: To read play excerpts click here.
Please remember it is necessary to purchase one script for each cast member and one royalty for each performance.

Scripts: $8.95 each
Royalty: $75.00/performance
Prompt Book: $16.00
Poster Package: $50.00 (50/pkg)
Distribution Rights: $75.00
Artwork Rights: $50.00
Play Pack: $318.00 (22 scripts for cast/crew, 1 royalty, 50 posters, 1 prompt book)

Playwright Eddie McPherson loves everything theatre. He has published more than 70 plays in the educational, community theatre, and Christian markets. He enjoys hiking in the mountains and spending time with his dad in the house he grew up in.