Bremen Town Musicians, The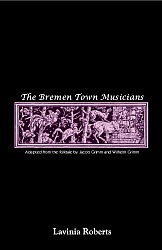 Plays for Young Audiences

By: Lavinia Roberts
Cast: 13 flexible, opt. extras
Performance Time: Approximately 30 minutes, 28 pgs.


CLASSIC/COMEDY. Three traveling minstrels arrive at a town where everyone hates minstrels. With nothing but their own shoes to eat, the minstrels have to come up with a story entertaining enough to earn their supper. The minstrels decide to tell the villagers the story of an aging donkey, dog, cat, and rooster who run away from their masters and head to the Town of Bremen to become famous singers and musicians. Along the way, the animals encounter a tiny house hidden in the woods where a band of dimwitted thieves are hiding out with piles of stolen treasure and an abundance of food. With their "beautiful" singing voices, the animals manage to scare off the thieves, enjoy a grand meal, and live out their lives happily ever after. Audiences of all ages will adore this humorous version of the classic tale by Jacob and Wilhelm Grimm.

Freeviews: To read play excerpts click here.

About the Story: To read more about the story click here.
Please remember it is necessary to purchase one script for each cast member and one royalty for each performance.

Scripts: $6.95 each
Royalty: $60.00/performance
Prompt Book: $13.00
Poster Package: $50.00 (50/pkg)
Distribution Rights: $60.00
Artwork Rights: $50.00
Play Pack: $214.00 (16 scripts for cast/crew, 1 royalty, 50 posters, 1 prompt book)

Lavinia Roberts is an award-winning playwright and educator. She has a MA in Theatre Education from New York University and an MFA in Playwriting from Southern Illinois University. Roberts has been a theatre teacher for more than a decade. She is an Assistant Professor and Murphy Fellow in Theatre Arts at Hendrix College in Conway, Arkansas.