Gift of the Magi, The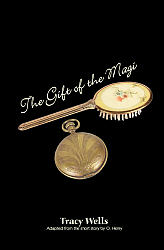 Holiday Plays

By: Tracy Wells
Cast: 3 M, 7 F, 4 flexible (With doubing: 2 M, 4 F, 3 flexible)
Performance Time: Approximately 30 minutes, 32 pgs.


HOLIDAY CLASSIC. It's Christmas Eve and newlyweds Jim and Della have no money to buy each other a Christmas present. Della decides to sell her long, lustrous hair so that she can purchase a gold chain for Jim's prized pocket watch. Meanwhile, Jim decides to pawn his pocket watch in order to buy Della a pair of hair combs to adorn her beautiful hair. In the end, the couple discovers the richness of their love through their self-sacrificing acts. Easy to stage, this timeless tale is suitable for audiences of all ages.

Freeviews: To read play excerpts click here.

About the Story: To read more about the story click here.
Please remember it is necessary to purchase one script for each cast member and one royalty for each performance.

Scripts: $6.95 each
Royalty: $60.00/performance
Prompt Book: $13.00
Poster Package: $50.00 (50/pkg)
Distribution Rights: $60.00
Artwork Rights: $50.00
Play Pack: $221.00 (17 scripts for cast/crew, 1 royalty, 50 posters, 1 prompt book)


Tracy Wells is an accomplished playwright who has published several plays for children and adults. Mrs. Wells has been involved in theatre for many years in acting and in production. She and her husband, Eric, reside in metro Detroit with their son and daughter.