Agatha Christie's The Secret Adversary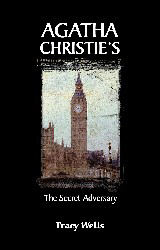 Full-Lengths

By: Tracy Wells
Cast: 6 M, 6 F, 13 flexible, opt. extras (With doubling: 3 M, 4 F, 13 flexible)
Performance Time: Approximately 120 minutes, 108 pgs


MYSTERY. Adapted from the novel by Agatha Christie. WWI has ended and Tommy, a former soldier, and Tuppence, a former Army nurse, are out of work and money. The two decide to hire themselves out as adventurers willing to do anything and go anywhere with no unreasonable offer refused. The duo is soon hired by a British Intelligence agent to find a missing American woman, recover an important treaty, and discover the true identity of the mysterious "Mr. Brown." While on the trail, the intrepid pair becomes enmeshed in a thrilling adventure filled with intrigue, deception, double-crossing, and harrowing escapes as they pursue their elusive secret adversary.

Freeviews: To read play excerpts click here.

About the Story: To read more about the story click here.
Please remember it is necessary to purchase one script for each cast member and one royalty for each performance.

Scripts: $8.95 each
Royalty: $75.00/performance
Prompt Book: $16.00
Poster Package: $50.00 (50/pkg)
Distribution Rights: $75.00
Artwork Rights: $50.00
Play Pack: $372.00 (28 scripts for cast/crew, 1 royalty, 50 posters, 1 prompt book)


Tracy Wells is an accomplished playwright who has published several plays for children and adults. Mrs. Wells has been involved in theatre for many years in acting and in production. She and her husband, Eric, reside in metro Detroit with their son and daughter.