Academy Grimm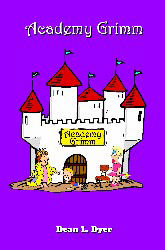 Full-Lengths

By: Dean L. Dyer
Cast: 8 M, 17 F
Performance Time: Approximately 90-120 minutes, 89 pgs


COMEDY. A group of students on their way to a drama festival get lost in an enchanted forest where they encounter some fairytale characters who escort the students to Academy Grimm. At Academy Grimm, the students meet Miss Muffet, the staff psychologist who suffers from arachnophobia; Generic Queen 4455, who has delusions of grandeur; a stepmother with anger-management issues; a prince who is tired of kissing princesses with morning breath and bed head; a woodcutter suffering from post-traumatic stress disorder after killing too many wolves; and Dummerly, who thinks he's "Hans," a dragon slayer. The characters tell the students Academy Grimm is a fairytale training academy, but the students soon discover that Academy Grimm is more like fairytale rehab!

Freeviews: To read play excerpts click here.

About the Story: To read more about the story click here.
Please remember it is necessary to purchase one script for each cast member and one royalty for each performance.

Scripts: $8.95 each
Royalty: $75.00/performance
Prompt Book: $16.00
Poster Package: $50.00 (50/pkg)
Distribution Rights: $75.00
Artwork Rights: $50.00
Play Pack: $372.00 (28 scripts for cast/crew, 1 royalty, 50 posters, 1 prompt book)


Dean L. Dyer is the author of several published plays and has been involved with high school theatre programs for more than 30 years. Mr. Dyer works as a play director and teacher at Western High School in Parma, MI. He lives with his wife, Jeanette, on a farm in Springport, MI.