After We Went to Our First REAL Play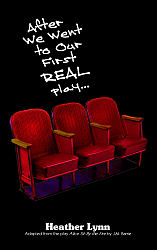 Full-Lengths

By: Heather Lynn
Cast: 3 M, 6 F
Performance Time: Approximately 75 minutes


FARCE/SPOOF. Adapted from the play "Alice Sit-by-the-Fire" by J.M. Barry. Amy, a dramatic, naïve teenager, has learned the ways of the world by regularly going to the theater, where she has learned about love triangles, covert love letters, and the importance of flinging your cloak back with a flourish when entering a room. When her parents arrive in London after a long military stint, Amy meets her parents and realizes they are largely strangers to her. After having seen five theatrical melodramas that week, Amy's flair for the dramatic goes into overdrive when she mistakenly suspects that her mother, Alice, and Mr. Rollo, a lonely bachelor, have set up a secret rendezvous. To save her mother from scandal and shame, Amy concocts a farcical plot to "save" her. The laughs are nonstop in this side-splitting spoof of 19th century English melodramas.

Freeviews: To read play excerpts click here.

About the Story: To read more about the story click here.
Please remember it is necessary to purchase one script for each cast member and one royalty for each performance.

Scripts: $8.95 each
Royalty: $75.00/performance
Prompt Book: $16.00
Poster Package: $50.00 (50/pkg)
Distribution Rights: $75.00
Artwork Rights: $50.00
Play Pack: $228.00 (12 scripts for cast/crew, 1 royalty, 50 posters, 1 prompt book)