Call Me Mr. Scrooge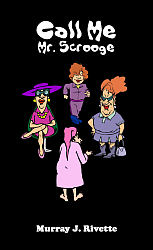 Holiday Plays

By: Murray J. Rivette
Cast: 4 M, 3 F, 4 flexible (With doubling: 3 M, 3 F, 1 flexible)
Performance Time: Approximately 45-60 minutes, 45 pgs.


FARCE/SPOOF. Inspired by the classic tale by Charles Dickens. Ebenezer Scrooge is visited on Christmas Eve by four ghosts who try to convince him to change his miserly ways by giving his poor clerk, Bob Cratchit, a raise, a light over his desk, and his own key to the men's room. The Ghost of Christmas Past arrives and ends up in therapy after recalling her unhappy Christmas memories. The Ghost of Christmas Present tries to remind Scrooge of the importance of Christmas but has memory issues and can't remember anything in the present. The Ghost of Christmas Future tries to show Scrooge his future with her crystal ball, but it has poor reception and its batteries are running low. Finally convinced he should make nice, Scrooge discovers Bob Cratchit has been embezzling money for years to pay for Tiny Tim's nose job. A hysterical holiday show to remember!

Freeviews: To read play excerpts click here.

About the Story: To read more about the story click here.
Please remember it is necessary to purchase one script for each cast member and one royalty for each performance.

Scripts: $7.95 each
Royalty: $60.00/performance
Prompt Book: $16.00
Poster Package: $50.00 (50/pkg)
Distribution Rights: $60.00
Artwork Rights: $50.00
Play Pack: $217.00 (14 scripts for cast/crew, 1 royalty, 50 posters, 1 prompt book)


A veteran actor and director who has participated in more than 200 theatre productions, Murray J. Rivette has worked with actors William Shatner, Betty Grable, Sam Levene, Vivian Blaine and Christopher Reeve. He has taught improv classes at the Little Palm Family Theatre in Boca Raton, FL, and is the author of several children's plays based on classic fairytales. Rivette lives in Valdosta, Georgia.