Curses! A Fractured Fairies' Tale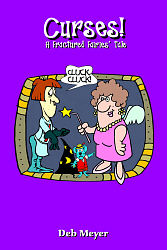 Plays for Young Audiences

By: Deb Meyer
Cast: 4 M, 4 F, 9 flexible (With doubling: 4 M, 3 F, 1 flexible)
Performance Time: Approximately 45-60 minutes, 52 pgs


COMEDY. Marigold, a cranky fairy, casts quirky spells on anyone who annoys her and has transformed all the villagers of Luxyluke into mice. Two fairy friends, along with Prince Yewdl and Princess Weegelia, arrange an intervention to convince Marigold to attend Fairy Godmothers' Anonymous. Annoyed, Marigold casts a spell that makes Prince Yewdl act like a chicken. However, when Marigold discovers she may have accidentally transformed her best friend, Morton the wizard, into a mouse, she sets out to find him and reverse the spell. Along the way, Marigold meets an old hag who gives her horrible directions, and Marigold ends up at a support group for fairytale characters where she meets a grouchy dwarf, a guilt-wracked woodsman, and a guy named Jack who is addicted to beans. Nonstop laughs!

Freeviews: To read play excerpts click here.
Please remember it is necessary to purchase one script for each cast member and one royalty for each performance.

Scripts: $7.95 each
Royalty: $60.00/performance
Prompt Book: $16.00
Poster Package: $50.00 (50/pkg)
Distribution Rights: $60.00
Artwork Rights: $50.00
Play Pack: $265.00 (20 scripts for cast/crew, 1 royalty, 50 posters, 1 prompt book)

Playwright Deb Meyer has written, directed, and produced video shorts, which have been viewed in the US, Australia, New Zealand, and the UK. Ms. Meyer is a member of Playwrights Ink and resides in Columbus, Wisconsin.