Bright, Thoughtless, and Merry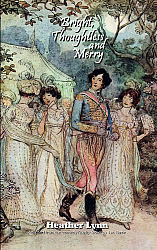 Full-Lengths

By: Heather Lynn
Cast: 8 M, 10 F, 1 flexible, extras (With doubling: 6 M, 8 F)
Performance Time: Approximately 75-90 minutes, 77 pgs



COMEDY. As the years go by, Phoebe tires of being a dowdy schoolmistress, so she gives herself a makeover and poses as the young, flirtatious "Miss Livvy," her imaginary niece. When Captain Brown returns from war, he is quickly captivated by "Miss Livvy" and persuades her to accompany him to the ball. At the ball, many gentlemen vie for the affections of "Miss Livvy," much to the dismay of the other girls in attendance. However, unknown to Phoebe, Captain Brown is secretly in love with Phoebe, not "Miss Livvy." Unfortunately, Phoebe finds that getting rid of "Miss Livvy" is much harder than creating her! There are nonstop laughs and twists and turns galore in this hysterically funny comedy. Adapted from the comedy "Quality Street" by J.M. Barrie.

Freeviews: To read play excerpts click here.

About the Story: To read more about the story click here.
Please remember it is necessary to purchase one script for each cast member and one royalty for each performance.

Scripts: $8.95 each
Royalty: $75.00/performance
Prompt Book: $16.00
Poster Package: $50.00 (50/pkg)
Distribution Rights: $75.00
Artwork Rights: $50.00
Play Pack: $318.00 (22 scripts for cast/crew, 1 royalty, 50 posters, 1 prompt book)