Catch That Wolf!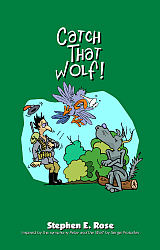 Plays for Young Audiences

By: Stephen E. Rose
Cast: 4 M, 5 F, 2 flexible
Performance Time: Approximately 45-60 minutes, 47 pgs


COMEDY. When some sheep go missing, the Czar announces he will send three of his finest royal hunters to catch the wolf. The only problem is that the Czar's finest hunters are away on a mission, and there's just Boris, Anton, and Nicholas left. Not only is this bumbling trio horrible at hunting, they're terrified of wolves. And rumor has it that this wolf has sharp claws, vicious teeth, and a big appetite! But Petrova, who yearns to be a great hunter like her grandmother, sets out to catch the wolf with the help of a flighty bird, a "lucky" duck, and a sleepy cat. Youngsters will love this hilarious, action-packed comedy, which provides endless opportunities to showcase physical humor.

Freeviews: To read play excerpts click here.

About the Story: To read more about the story click here.
Please remember it is necessary to purchase one script for each cast member and one royalty for each performance.

Scripts: $7.95 each
Royalty: $60.00/performance
Prompt Book: $16.00
Poster Package: $50.00 (50/pkg)
Distribution Rights: $60.00
Artwork Rights: $50.00
Play Pack: $217.00 (14 scripts for cast/crew, 1 royalty, 50 posters, 1 prompt book)

Playwright Stephen E. Rose has played bass guitar in various groups for the past 40 years and has toured with a top 40 band. He works as guest DJ for KWEB radio and dances for the Jasper County Support Group and various car shows. Mr. Rose has a BA in Speech and Drama from Missouri Southern College. He resides in Webb City, Missouri.