Peter Pan and Wendy (One-Act)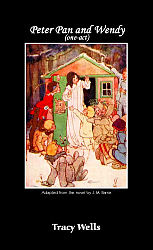 One-Acts 45

By: Tracy Wells
Cast: 12 M, 9 F, 3 flexible, opt. extras (With doubling: 11 M, 6 F, 3 flexible)
Performance Time: Approximately 60-75 minutes, 69 pgs


CLASSIC. Adapted from the 1911 novel by J.M. Barrie. When Peter Pan is spotted at the open window of the Darling nursery, he tries to escape but loses his shadow. Wendy, the eldest of the Darling children, sews Peter's shadow back on, and Peter invites Wendy and her two brothers to fly with him to Neverland. In Neverland, Peter welcomes Wendy to his underground home, where she agrees to be the mother to Peter's band of Lost Boys. The Darling children go on many adventures with Peter and the Lost Boys and encounter pirates, including the notorious Captain Hook. Determined to seek revenge on Peter, Captain Hook concocts a plan to poison Peter, kidnap the Lost Boys and Wendy, and make them walk the plank. Audiences of all ages will love this fanciful, timeless story.

Freeviews: To read play excerpts click here.

About the Story: To read more about the story click here.
Please remember it is necessary to purchase one script for each cast member and one royalty for each performance.

Scripts: $7.95 each
Royalty: $60.00/performance
Prompt Book: $16.00
Poster Package: $50.00 (50/pkg)
Distribution Rights: $60.00
Artwork Rights: $50.00
Play Pack: $321.00 (27 scripts for cast/crew, 1 royalty, 50 posters, 1 prompt book)


Tracy Wells is an accomplished playwright who has published several plays for children and adults. Mrs. Wells has been involved in theatre for many years in acting and in production. She and her husband, Eric, reside in metro Detroit with their son and daughter.