Camp Dinky Springs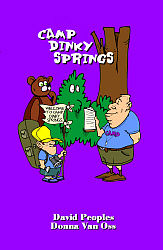 Full-Lengths

By: David Peoples and Donna Van Oss
Cast: 11 M, 14 F, 4 flexible, opt. extras
Performance Time: Approximately 100-120 minutes, 90 pgs


COMEDY. During a week of survival challenges, the campers at Camp Dinky Springs must compete against the overachieving campers at Camp Roaring River. The Dinky Springs campers have never come close to winning in past years, so they know they must pull out all the stops. However, first, they must contend with a helicopter mom lurking about in a ghillie suit, a drill sergeant camp counselor, a monster known as "The Green Vengeance," a "bear," and each other! There's plenty of summer camp silliness in this wildly funny comedy. Easy to stage.

Freeviews: To read play excerpts click here.
Please remember it is necessary to purchase one script for each cast member and one royalty for each performance.

Scripts: $8.95 each
Royalty: $75.00/performance
Prompt Book: $16.00
Poster Package: $50.00 (50/pkg)
Distribution Rights: $75.00
Artwork Rights: $50.00
Play Pack: $407.00 (32 scripts for cast/crew, 1 royalty, 50 posters, 1 prompt book)

David Peoples has performed and co-authored several stage plays with his former theatre teacher, Donna Van Oss. Mr. Peoples lives with his family in Watson, LA.
Donna Van Oss has taught high school drama for more than 25 years.  She has helped her students write and perform various works from full-length plays to children's scripts.  She and her husband, Danny, live in Baton Rouge, LA. They have two adult children, Sam and Amelia.