Agatha Christie's The Double Clue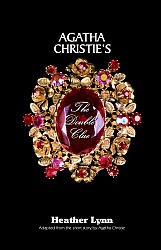 One-Acts 20

By: Heather Lynn
Cast: 2 M, 4 F
Performance Time: Approximately 20-30 minutes, 24 pgs


MYSTERY. Adapted from the story by Agatha Christie. Mrs. Hardman, a wealthy collector, summons famed detective Hercule Poirot to recover her jewels that were stolen at a tea party, which was attended by several high-society guests. Poirot investigates four suspects: a Russian countess, an English grande dame whose aunt is a kleptomaniac, a South African millionaire, and a discreet jewel agent for the well-to-do. During the investigation, Poirot discovers two clues, but for him, two clues are too many! Features the first appearance of Christie's recurring character, the captivating Countess Vera Rossakoff. Easy to stage with just a few set pieces.

Freeviews: To read play excerpts click here.

About the Story: To read more about the story click here.
Please remember it is necessary to purchase one script for each cast member and one royalty for each performance.

Scripts: $6.95 each
Royalty: $60.00/performance
Prompt Book: $13.00
Poster Package: $50.00 (50/pkg)
Distribution Rights: $60.00
Artwork Rights: $50.00
Play Pack: $166.00 (9 scripts for cast/crew, 1 royalty, 50 posters, 1 prompt book)