Boo Ha Ha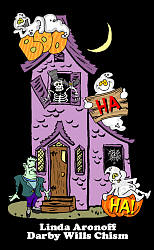 Holiday Plays

By: Linda Aronoff and Darby Wills Chism
Cast: 6 M, 6 F, 9 flexible, opt. extras (Flexible cast. Doubling possible)
Performance Time: Approximately 20-30 minutes, 19 pgs.


SKIT COLLECTION/COMEDY: There's a trio of stand-up skeleton comedians, a band of pirates, the ghost of Elvis, a mad scientist, Frankenstein, Dr. Jekyll and Mr. Hyde, and a host of other wacky characters in this collection of seven family-friendly Halloween skits. This show is suitable for all ages and can be performed as an alternative to a haunted house, or it can be incorporated as part of a haunted house experience. This show is also suitable for schools and touring groups.

Freeviews: To read play excerpts click here.
Please remember it is necessary to purchase one script for each cast member and one royalty for each performance.

Scripts: $6.95 each
Royalty: $60.00/performance
Prompt Book: $13.00
Poster Package: $50.00 (50/pkg)
Distribution Rights: $60.00
Artwork Rights: $50.00
Play Pack: $270.00 (24 scripts for cast/crew, 1 royalty, 50 posters, 1 prompt book)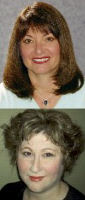 Linda Aronoff is a theater producer and director. She coaches acting students in the classroom and on an individual basis. Ms. Aronoff studied acting and dramatic arts at Penn State Erie and studied directing at Kennesaw University. She has two children and lives in Marietta, GA.
Darby Wills Chism teaches art and drama classes at the Kennesaw Community Center and has worked as a preschool teacher, an art-enrichment instructor, and an art specialist for Cobb County's Cultural Affairs Department. Ms. Chism lives in her hometown of Marietta, Georgia, with her husband, David, and their children, Rebecca and Wyatt.