Louisa May Alcott's Little Women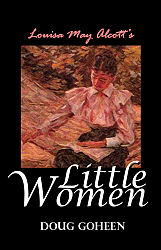 Holiday Plays

By: Doug Goheen
Cast: 5 M, 7 F
Performance Time: Approximately 120 minutes, 96 pgs.


DRAMA. This adaptation remains true to the original novel and contains all the major events that made Little Women (1868) an American classic for both children and adults. The play opens on Christmas at the March home as the family tries to make the best of the holiday, though they have little money and Father is off ministering to Union soldiers. The play follows the March girls over 10 years as they grow into women. During this time, the family celebrates many joyous events including Jo's successful writing career, the birth of Meg's twins, Father's return home, and Amy's marriage. But these happy times are not without tragedy. Beth's untimely death leaves the family reeling as they try to cope with the loss. However, in the end, this cheerful, wholesome family prevails in this heartfelt story of courage and love.

Freeviews: To read play excerpts click here.

About the Story: To read more about the story click here.
Please remember it is necessary to purchase one script for each cast member and one royalty for each performance.

Scripts: $8.95 each
Royalty: $75.00/performance
Prompt Book: $16.00
Poster Package: $50.00 (50/pkg)
Distribution Rights: $75.00
Artwork Rights: $50.00
Play Pack: $255.00 (15 scripts for cast/crew, 1 royalty, 50 posters, 1 prompt book)


Doug Goheen has published several plays for children and adults and has taught English and theatre for more than 35 years. Mr. Goheen and his wife, Diane, live in Topeka, KS. They have two sons, Jacob and Nathan.